Welcome Aboard Live
with Mike Pettersson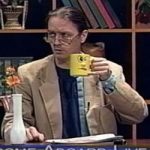 Welcome Aboard Live with Mike Pettersson was a Public Access cable TV entertainment show on what was then BCAT ( now BRIC ) – Brooklyn Community Access Television – from 1997 through 2008. This website is dedicated to the memory and preservation of this ground breaking show. All videos linked on this site are available on our YouTube channel. We are also beginning to move onto other platforms as well. BitChute and Odysee are two platforms that you should also check out.
This site is strictly for and about the history of the original Cable TV show. We are starting a podcast and webcast that will also be called Welcome Aboard Live. The website for the podcast is welcomeaboardlive.net.
Achievements
Some of the ground breaking achievements:
First show to go live from BCAT – now BRIC – Studios in downtown Brooklyn
First show to do live call-in from BCAT – now BRIC – Studios in downtown Brooklyn
First show to run a B-Roll video to time the show and insert bumpers
Formats
There were many different formats to Welcome Aboard Live with Mike Pettersson.
Panel talk show In the apartment of Mike Pettersson
"Late Night" style talk show with in-house band
Live call-in show in the mini-studio
Variety show videotaped at clubs around New York City
Press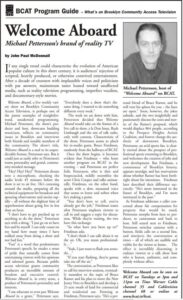 Here is an article about me, Mike Pettersson, from The Brooklyn Paper which was originally run in the BCAT program guide from August 2005. The writer stopped by when I was setting up a live call-in show with my good friend the late Bruce Friedman. Bruce not only was a valuable member of my crew, he was an advocate for everything Brooklyn and made the restoration of The Loew's Kings Theatre. In 2014 Brooklyn Borough President Marty Markowitz presented Bruce with a special proclamation for his work in saving the theatre. Bruce's show "That's Brooklyn" was a staple on BCAT as well. You can check out Bruce's show on YouTube at Vaudeville7.