Cast and Crew
The cast and crew encompassed so many people over the years. Since this was a public access show, no one ever got paid for their help or appearances. Without the help of all these people there never would have been a show.
The Cast
Over the years Welcome Aboard Live with Mike Pettersson has included a cast of many very talented people  Some were involved as both cast and crew members.
The Exterminators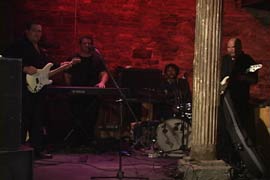 As part of the "Late Night Talk Show" format used on so many episodes, Welcome Aboard Live with Mike Pettersson had it's own in house band known as The Exterminators. For studio shoots it was basically Ralph Mercante and Joe Biondo. When we went on location, Even Steven Levee and Bernice "Boom Boom" Brooks were added on bass and drums respectively.
The Crew
Over the many years of production, Welcome Aboard Live with Mike Pettersson had so many people contribute their talents as crew members. Without these people, who gave their time and energy without remuneration, the show could never have been. We are forever in their debt.
James Riley
Richard Rock
Bashirah Huda
Ruth Berg
Ruperto Davis
Ronnie Crews